Enabling Continuous Improvement
We have helped hundreds of veterinary hospitals improve customer loyalty, productivity, and employee engagement. We do this by providing online assessments, benchmarking, and training.
We believe in the power of continuous improvement. This is best described by the Japanese word "Kaizen" which is translated as "constant good change."
To help our clients implement a Kaizen program, we provide effective survey instruments using the Net Promoter Score as a base. We then create industry benchmarking for advanced analytics and provide coaching for strategic planning.
We enable our clients to be their best! To see how we do this, please watch our system demo.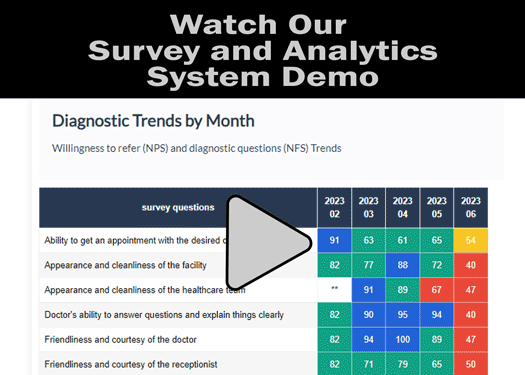 Using our client feedback and analytics system is easy. We are here to help you at each step.
Upload your list of emails or integrate with our system.
We send out survey invitations to your clients.
Your clients can take the survey.
Our system displays your social media links for favorable survey responses.

This helps you generate more favorable online reviews.

You receive immediate email alerts when a client finishes a survey.

This helps you respond directly to unfavorable survey responses.

Take action if needed.
Compare your scores over time and to your industry.
Build action plans for improvement.
Celebrate your upward cycle of success!
We also have standardized assessments and industry benchmarks for employee feedback, and strategic partner feedback (e.g., referring DVM's, etc.).
Take the following quiz to see how CalPro Research can help you:
Do you want to increase customer retention and loyalty?
Do you want to have more of your clients referring you to their friends?
Do you want to know what your customers, clients, or patients really think?
Do you want to improve employee engagement and productivity?
Are you looking for more traction with strategic planning?
Do you have a few good employees that need coaching to become great employees?
Are you looking for fresh ideas to help navigate today's economy?
If you answered "yes" to any of these questions and want more information, Please contact us.